Rabbit Balloons Delivered
Saturday, 8 February 2020 | Admin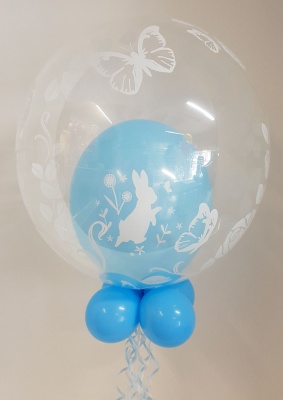 Get rabbit balloons delivered for your next rabbit party or special occasion.
A rabbit themed party or special occasion can be brought to life with helium filled rabbit balloons.
Our helium filled rabbit balloons are delivered inflated and ready to float out of the box when opened. Not only that, but they will last for around a week after delivery!
One of our most popular rabbit balloons is our "balloon in a balloon" which is two balloons for the price of one! The balloon in a balloon is a large clear outer balloon printed with butterflies and flowers, and then on the inside, we have either a pink or blue rabbit balloon. The whole thing is finished with a small balloon collar and a balloon weight.
We send balloons on a guaranteed next day delivery service, so you just have to let us know when you want it, and we send your balloon the day before.
For those who have their own helium or prefer to inflate their own balloons we also stock a range of rabbit balloon kits. To see our range of rabbit balloons click here.