Rose Gold Balloon Cloud Delivered
Saturday, 8 February 2020 | Admin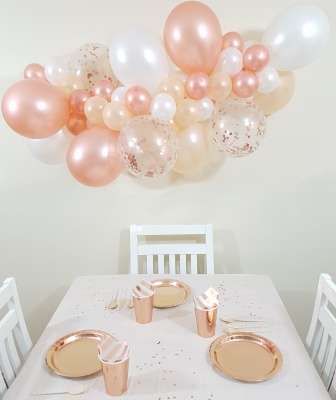 Get our rose gold balloon cloud delivered for your next party or special occasion.
At only £9.99 this gorgeous rose gold confetti balloon cloud garland comes with everything you need to create your next balloon statement party decoration. It's perfect for any birthday, christening, wedding or anniversary celebration.
All 60 balloons in the kit are simply filled with air and then attached to the decorating strip supplied. There's no need for helium!
It's easy to create your own stunning rose gold party statement piece just like this, using it as a focal point at your next party or occasion.
The balloon cloud garland can be used indoors or out, and because the balloons are air filled, they'll stay up for weeks.
You can make your balloon cloud up to approx 6ft long using all of the 60 balloons included.
Your balloon cloud is delivered by 1st class Royal Mail.
Your Celebrations Balloon Cloud Kit contains:
3 x 11" (large) diamond clear rose gold confetti balloons (prefilled with metallic rose gold confetti)
3 x 11" (large) pearl rose gold balloons
3 x 11" (large) pearl peach balloons
3 x 11" (large) pearl white balloons
16 x 5" pearl rose gold balloons
16 x 5" pearl peach balloons
16 x 5" pearl white balloons
Balloon cloud strip (to attach the balloons to)
Full instructions
This balloon cloud is so easy to do that anyone can achieve great results, just like in our picture in around 30 - 40 minutes!