ORDER BEFORE 11.30am FOR SAME DAY DISPATCH (Mon-Fri) or CHOOSE A DELIVERY DATE UP TO 90 DAYS AHEAD
London Balloons Delivered | Balloon in a box UK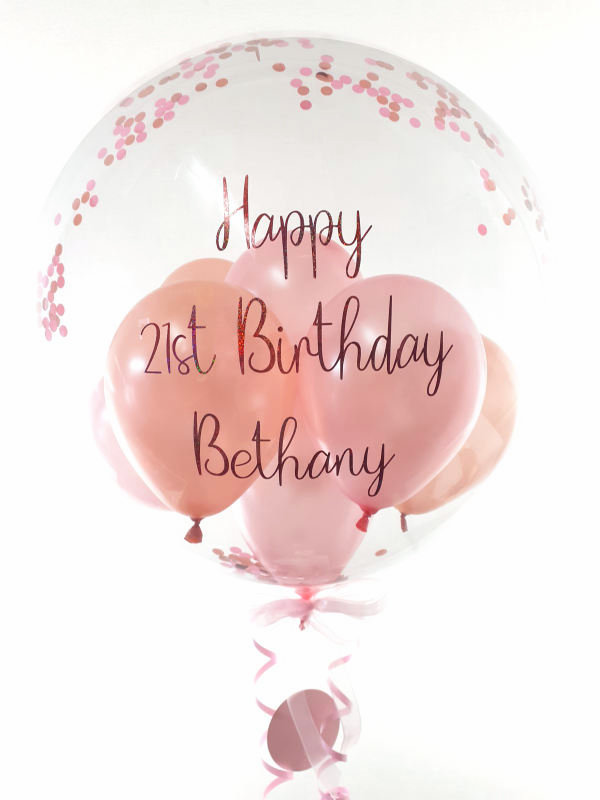 Send a balloon in a box to someone special! We deliver personalised balloons to all areas of London. Our helium filled gift balloons are sent out on a 'Next Day Delivery' service and you can order up to 90 days in advance. We can send a balloon to anywhere in the London area, so you can be sure that your balloon will arrive in good time for your celebrations!
If the balloon is a gift we can even send it direct to the recipient on your behalf including a complementary message so that they will know it's from you!
All our balloons are individually handmade for London balloon delivery. Remove the wrapping from our balloon in a box and your personalised balloon will float up to surprise the lucky recipient.
Our balloons are personalised with your own message and are perfect for all occasions including birthdays, anniversaries, baby showers, weddings or hen parties.

We deliver balloons to the London area including the following postcodes:
BR1, BR2, BR3, BR4, BR5, BR6, BR7, BR8, RM1, RM2, RM3, RM4, RM5, RM6, RM7, RM8, RM9, RM10, RM11, RM12, RM13, RM14, RM15, RM16, RM17, RM18, RM19, RM20, EN1, EN2, EN3, EN4, EN5, EN6, EN7, EN8, EN9, EN10, EN11, UB1, UB2, UB3, UB4, UB5, UB6, UB7, UB8, UB9, UB10, UB11, UB18, NW1, NW1W, NW2, NW3, NW4, NW5, NW6, NW7, NW8, NW9, NW10, NW11, NW26 ,DA1, DA2, DA3, DA4, DA5, DA6, DA7, DA8, DA9, DA10, DA11, DA12, DA13, DA14, DA15, DA16, DA17, DA18, TW1, TW2, TW3, TW4, TW5, TW6, TW7, TW8, TW9, TW10, TW11, TW12, TW13, TW14, TW15, TW16, TW17, TW18, TW19, TW20, IG1, IG2, IG3, IG4, IG5, IG6, IG7, IG8, IG9, IG10, IG11, SE1, SE2, SE3, SE4, SE5, SE6, SE7, SE8, SE9, SE10, SE11, SE12, SE13, SE14, SE15, SE16, SE17, SE18, SE19, SE20, SE21, SE22, SE23, SE24, SE25, SE26, SE27, SE28, SW1A, SW1E, SW1H, SW1P, SW1V, SW1W, SW1X, SW1Y, SW2, SW3, SW4, SW5, SW6, SW7, SW8, SW9, SW10, SW11, SW12, SW13, SW14, SW15, SW16, SW17, SW18, SW19, SW20, SW95, HA0, HA1, HA2, HA3, HA4, HA5, HA6, HA7, HA8, HA9, W1A, W1B, W1C, W1D, W1F, W1G, W1H, W1J, W1K, W1S, W1T, W1U, W1W, W2, W3, W4, W5, W6, W7, W8, W9, W10, W11, W12, W13, W14, N1, N1C, N1P, N2, N3, N4, N5, N6, N7, N8, N9, N10, N11, N12, N13, N14, N15, N16, N17, N18, N19, N20, N21, N22, N81