ORDER BEFORE 11.30am FOR SAME DAY DISPATCH (Mon-Fri) or CHOOSE A DELIVERY DATE UP TO 90 DAYS AHEAD
Pre-Sales FAQ
Please read these questions & answers before placing an order. They will help you to understand more about the products and service that we offer.
Is the balloon delivered inflated?
Yes, all the personalised balloons we supply are delivered inflated.
What's the difference between the two balloon sizes and which should I choose?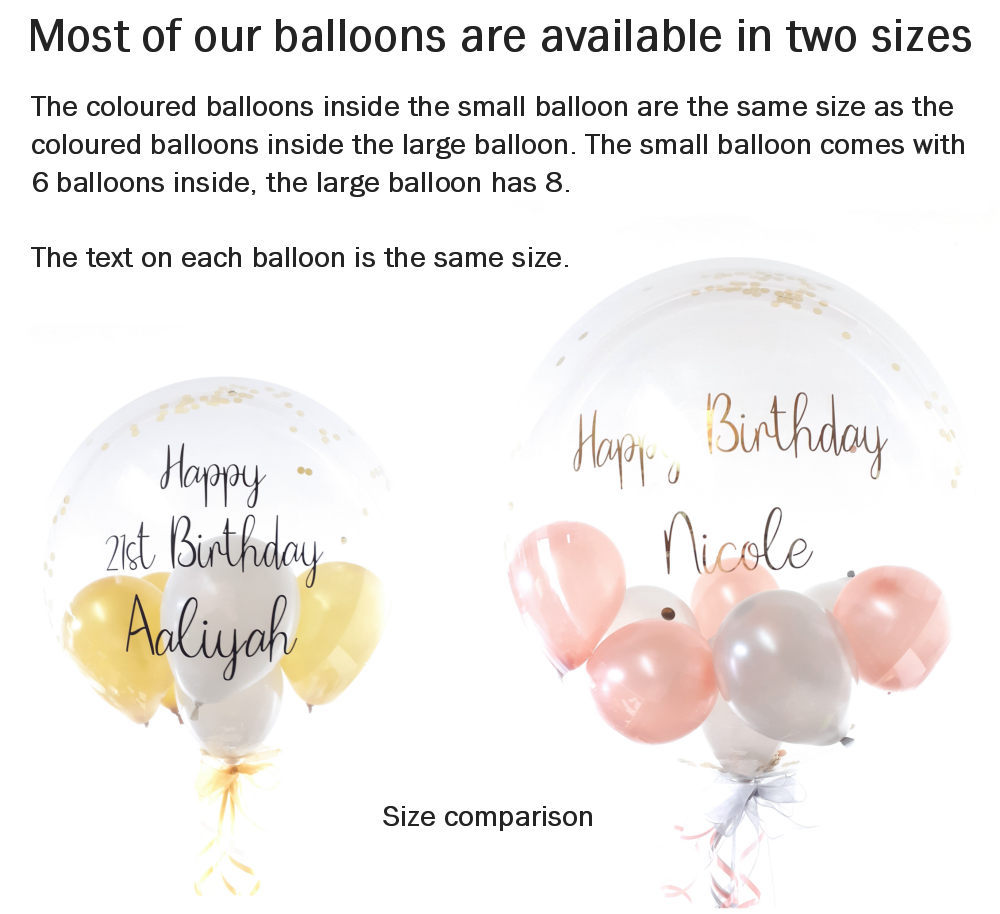 We offer two sizes of bubble balloon; 20" and 24". Our standard size is the 20" balloon (with approx 6 balloons inside) however if you really want to make a statement, you can choose the larger balloon instead. The larger balloon comes with approx 8 balloons inside. You can also expect the larger balloon to float for longer (up to 3 weeks!). The smaller balloon is ideal for adding a short tail or ribbon for use on a table, while the larger balloon has a greater visual impact and works well as a floor standing balloon with long ribbon. You can choose ribbon lengths during the order process. Balloons are slightly smartie shaped and are measured from edge to edge, following the curve of the balloon. To give you an idea of the difference between the two sizes, the 24" balloon has twice as much helium in it than the 20" balloon. You can choose ribbon/tail lengths during the order process.
What size are the small balloons that are in the big clear balloon?
These balloons are 5 inch. They are more rounded than the traditional party balloon but perfect for adding to the bubble balloons.
Can I get balloons delivered to family or friends at a different address?
Yes of course. During checkout there is the option for you to add an alternative delivery address. We also advise that you let the recipient know that they should expect a delivery.
How do I choose when the balloon will be delivered?
During checkout, you can choose any available dates from the calendar.
All orders are sent on an overnight service and dispatched the day before the date you select at checkout with the exception of Monday deliveries which need to be dispatched on the Friday before. Although this service is extremely reliable, no delivery date is guaranteed by us so if it is crucial that you have your balloon for a particular day, we recommend choosing an earlier delivery date to allow for any unexpected delay in transit. This is particularly relevant during periods of extreme weather or the busy period between Black Friday and Christmas, which may cause unavoidable delays in shipping. If for example, you need your balloon for an event on a Saturday, then we suggest choosing Thursday as your delivery day as this allows extra time for re-delivery before your event. We don't offer timed deliveries such as "before 12pm" however you should receive tracking information providing an approximate delivery time once your order is out for delivery.
Which courier company will deliver my order?
Getting your order delivered is our priority so we have a number of couriers that we use. In most cases it will be either DPD or DHL that deliver your order.
I can't get delivery on my preferred date, what can I do?
The dates we have available for delivery are displayed during checkout. Some delivery methods may not be available for your preferred date, so please choose a different delivery method if this is the case. Ordering early secures your order, and delivery date. Due to increased delivery costs for Saturday delivery we advise our customers to choose delivery on a Thursday or Friday, where possible. Your balloon is designed to last, so will still look great for your special occasion!
I want to send a balloon to somebody that is staying in hospital. Can I do this?
We do not recommend sending balloons to hospitals however if you choose to send a balloon to a hospital your order may be delivered to the hospitals own mail sorting centre by the courier, and then delivered to the ward, which will take some additional time. It is possible that some hospitals will not accept delivery. Please consider this when placing your order as we will not provide a refund under these circumstances.
I want to send a balloon to a Hotel, Venue or Restaurant. Can I do this?
Yes that's no problem however you should advise the Hotel, Venue or Restaurant to expect your order. Please arrange to have your balloon delivered a couple of days before the date that you need it for to allow for any unexpected delay. Any order which you choose to have delivered to either a Hotel, Hospital, Restaurant, Venue or Holiday Accommodation is done entirely at your own risk. We can not accept responsibility should your order be refused or for for any loss which may occur.
I want to send a balloon to a University Halls of Residence. Can I do this?
Yes you can but before placing an order with us, please consider that DHL may not be able to gain access to the specific room, and your order could be delivered to the nearest public access space. Any order which you choose to have delivered to a University or shared accommodation is done entirely at your own risk. We can not accept responsibility should your order be refused or for for any loss which may occur.
When ordering, how do I provide the words that I want to appear on a personalised balloon?
On the product listing page for every balloon that can be personalised with text, you can add your own message that will then appear on the finished balloon. It's important to remember that the balloons shown on our website are examples of what we have previously created. You will need to choose your own message in it's entirety, regardless of the image examples on our product listings. You can have any text or message that you like but it will only consist of the text that you submit on your order. Once you have added you message, it is important that you check it is correct before completing your order. There is a character limit of 45 for your personalisation which includes spaces. Choose a text colour that's different from the balloons for more visual impact.
How long will my balloons last?
Balloon float time is typically 1-2 weeks although this can vary greatly, depending on how they are used, and the environment they are kept in after delivery. For these reasons, it's unrealistic to give any kind of guarantee as to how long they will last.
What length of ribbon do the balloons have?
You can choose long or short ribbon lengths during the order process. Choosing a long ribbon means that your bubble balloon will be floating at approximately shoulder height when the balloon weight is on the ground. A short ribbon allows for the bubble balloon to float approx 2 - 3 ft above it's weight, so is ideal for a table.
Can I use the personalised bubble balloons outside?
We do not recommend using our balloons outdoors. Although our balloons are weighted, they can easily be carried away by the wind when used outdoors.
Will my helium filled balloon float?
Yes. Helium is an inert gas with a density lighter than air. Once you open the box that your balloon is delivered in, and remove any additional packaging, your helium balloon will float. All helium balloons are attached to a suitable weight or balloon base. Please note that any air filled balloons included with your order will not float, of course.
Is there a gift card or gift tag that comes with my balloon order?
We don't supply a gift card or gift tag but we do have the option for you to write your own message to the recipient, letting them know who has sent them the balloon. With most of our product listings you can write the message in the "if sending as a gift" section on the product page. This will be printed on to the delivery note and included within the balloon box.
If I add the mini air filled balloons to my order, what size are they?
These balloons are perfect for using as additional decor, in conjunction with your main helium balloon. Each balloon is inflated with air (they do not float!) and they each measure approx 5" across.
Can the small balloons inside the big balloon deflate in transit?
We ensure that every balloon is checked prior to dispatch, however it is possible that one of the smaller balloons used as part of your order has slowly deflated in transit. This is very unusual but can happen from time to time. The small balloons are made from natural latex rubber which is porous and it's impossible to identify beforehand, which balloon may be affected. We do not provide any warranty in respect of this.
Is the price I paid displayed on the paperwork within the box?
No. We only include a delivery note and care instructions with any order. No prices are shown on this paperwork.
Can't I just collect balloons from your premises?
Sorry, but we no longer offer a collection service.